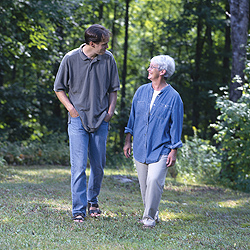 GENERATIONS is committed to providing quality education and training programs to the profes- sionals who provide services to the elderly, those with disabilities and their families.
CONTINUING EDUCATION (C.E.U.) SEMINARS
GENERATIONS offers a variety of professional sem inars in which participants can earn continuing education units to meet the licensing requirements of their disciplines. These professional seminars, certified by the state licensing boards for social work, nursing, nursing home administration, and case management are held throughout New Jersey. C.E.U. SEMINARS are available on topics such as:
The Impact of Aging on the Family
Differential Diagnosis in the Assessment of Senior Adults
Understanding Cultural Difference in the Elderly
Understanding Resistance in Working with Senior Adults
Ethical Dilemmas
Depression and Suicide
For a complete list of C.E.U. seminars or to arrange for a seminar at your facility, please call us at GENERATIONS.
IN-SERVICE TRAINING FOR STAFF
GENERATIONS believes that a staff can provide the highest quality of service when it understands the needs and concerns of the people it serves and when it can work as a cooperative and responsible unit.
With these goals in mind, GENERATIONS offers specially designed in-service training programs for staffs in hospitals, assisted living communi- ties, rehabilitation and long-term care facilities as well as to the staffs of medical, legal and finan cial institutions.
FOR FURTHER INFORMATION PLEASE CALL (866) 353-3726