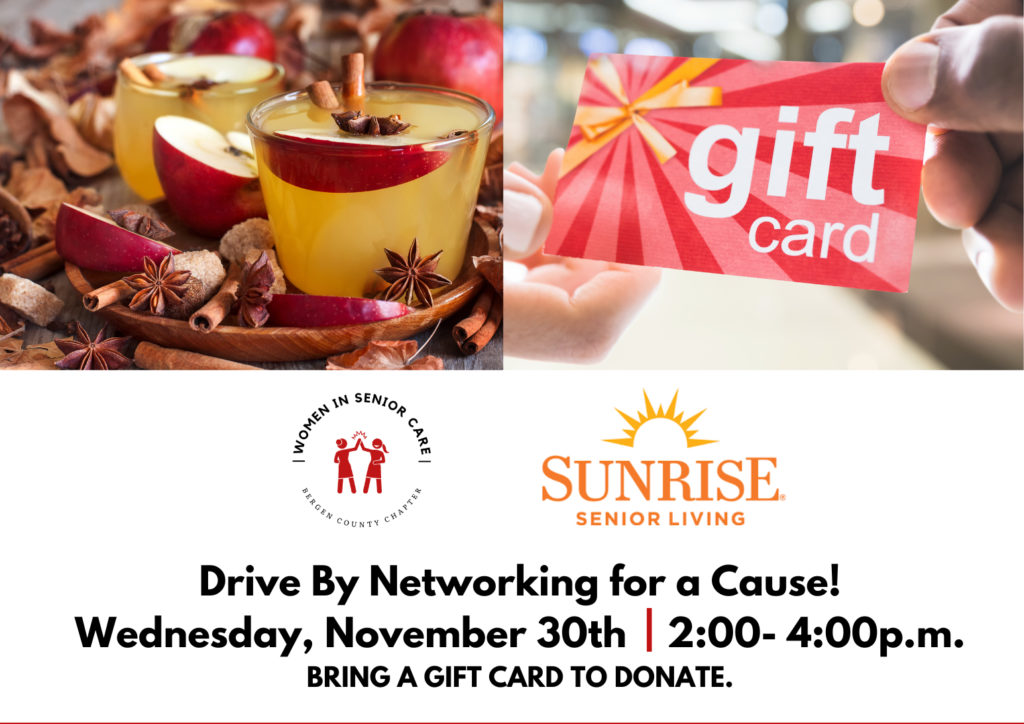 We are thrilled to be a part of the Women in Senior Care: Bergen County chapter. This group's mission is to not only educate seniors and their families about healthcare resources but it's also to lend their support to philanthropic endeavors that make our New Jersey community a better place to live.
Sip on some cider & network with the Women in Senior Care: Bergen County- for a cause! Please bring a ShopRite, Stop N' Shop, or visa gift card to donate. If you can't make the event, send Laura Huisking, lhuisking@generations-llc.com, an email about drop off information. There are two drive by locations for this event:
SUNRISE AT CRESSKILL
3 Tenakill Park Drive East, Cresskill
SUNRISE OF FRANKLIN LAKES
728 Franklin Avenue, Franklin Lakes
For Cresskill, please RSVP to Pat at cresskill.dos@sunriseseniorliving.com and for Franklin Lakes, please RSVP to Maureen at maureen.sandler@sunriseseniorliving.com.  
All gift card donations will go to seniors in need, distributed by the Northwest Senior Center and the Tenafly Senior Center in Bergen County, New Jersey.