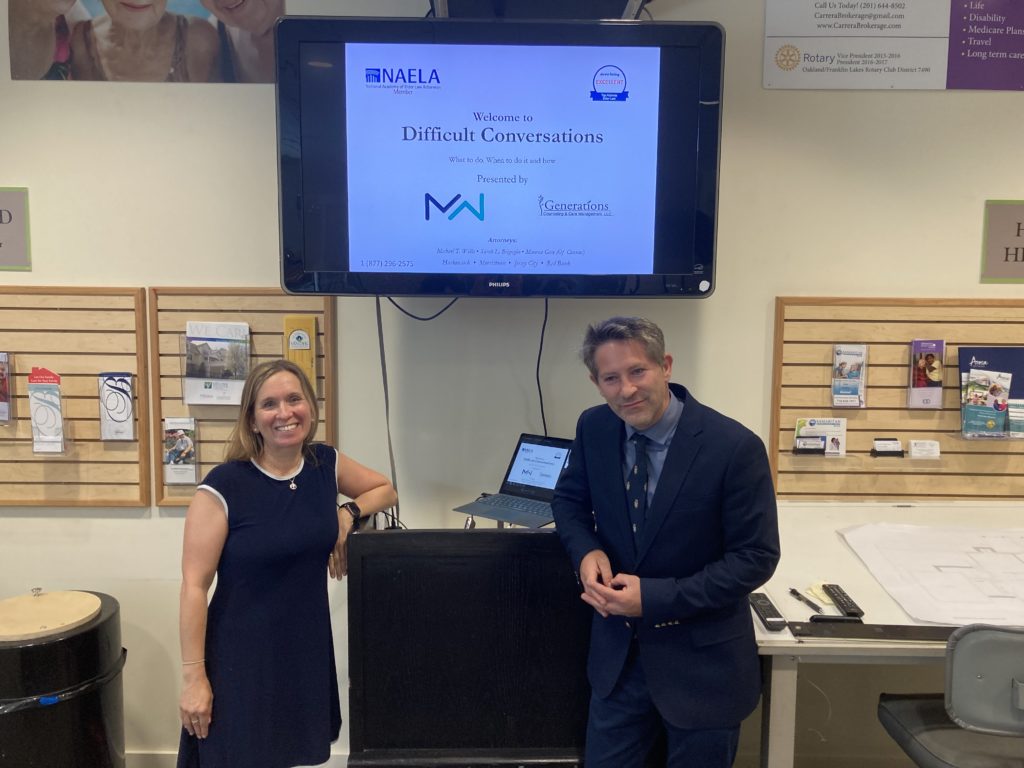 COMMUNITY PRESENTATIONS
Our community out reach program provides us the opportunity to meet with a wide variety of individuals facing the challenges of providing care for their loved ones. This series of presentations is designed to assist the non-professional examine the many options available for those providing care to a disabled or elderly family member.
SEMINARS FOR PROFESSIONALS
GENERATIONS COUNSELING & CARE MANAGEMENT, LLC is committed to providing quality education and training programs for professionals working with senior adults, people with disabilities and the agencies and facilities that work with them.
Our professional seminars enable participants to earn continuing education units to meet the licensing requirements of their disciplines.
These seminars, led by the professional staff of Generations, are approved for Continuing Education Credits (CEU's) by:
The New Jersey Board of Social Work Examiners
The New Jersey Administrators (LNHA) and Certified Assisted Living Administrators (CALA)
The Commission for Case Manager Certification (CCMC)
All Seminars may be structured for one to three credit hours.
I) THE ABC'S OF ELDER ABUSE: PSYCHOSOCIAL AND LEGAL ISSUES
This program will provide a clinical perspective on elder abuse. The different types of elder abuse will be defined and potential indicators of elder abuse will be identified. Intra-personal dynamics of the abuser and the psychosocial issues underlying abuse will be reviewed. The reasons for caregiver stress will be reviewed.
Prevention strategies and clinical interventions in abuse situations will be discussed and the concept of self-neglect will be explored in considering the question, "Is it abuse?"
II) DEPRESSION AND SUICIDE AMONG SENIOR ADULTS: ASSESSMENT, PREVENTION AND CLINICAL INTERVENTION
The program will address the ways in which suicide in senior adults differs from other age groups with the consideration of gender, race, and economic levels. The causes of suicide, contributing issues, motives and symptoms will be explored and methods of identifying at-risk senior adults will be reviewed.
Preventative treatment methods that effectively respond to depression and suicide in senior adults as well as post-acute care will be reviewed. Special issues related to residential care facilities will explored.
lll) EXPLORING THE CONCERNS OF LESBIAN, GAY, BISEXUAL AND TRANSGENDER INDIVIDUALS IN THE SENIOR COMMUNITY
There are an estimated 1.75 to 3.5 million Americans, aged sixty and over who are gay, lesbian, bisexual or transgender. While many of their current and anticipated needs are no different from the larger population, there are many issues and concerns that are especially and uniquely important to this group. These may include nontraditional partnerships and other family relationships, lack of supportive and responsive community resources, legal and financial hurdles, cultural biases and insensitivity and uniformed healthcare providers. This seminar will examine all of these issues and include a special focus on senior living communities and facilities.
IV) DIFFERENTIAL DIAGNOSIS OF PSYCHIATRIC DISORDERS IN SENIOR ADULTS
Effective work with senior adults, whether at home, in the office, or in a residential facility, requires a complete diagnostic evaluation and an assessment of functioning. This program will enable professionals to work with the client and family to develop appropriate treatment and care plans.
This program will teach the fundamental aspects of conducting a diagnostic and assessment processes with senior adults including the difference between making a diagnosis and conducting an assessment. Participants will then learn how to incorporate the diagnostic and assessment information into care plans and treatment plans and how to work most effectively in instituting these plans with the client, the family, among different professional disciplines and within different levels of care.
V) ETHICAL DILEMMAS IN WORKING WITH SENIOR ADULTS AND THEIR FAMILIES
This program is designed to provide the participants with a working understanding of ethics and ethical decision-making as applied to work with senior adults and their families. The program will enable the participants to learn definitions of ethics and ethical behavior, the similarities and differences of ethical formulations in various disciplines and how one's values, loyalties and cultural attitudes affect these decisions. Participants will learn how to use a multi-step process in order to make ethical decisions as well as how to evaluate their efficacy. The program will also review the attitudes that promote ethical decision-making as well as ways in which this process can be introduced into organizational settings.
The program will include numerous examples of ethical dilemmas as well as exercises that will enable attendees to experience the decision-making process.
VI) THE IMPACT OF AGING ON THE FAMILY
This program is designed to provide the attendees with a working understanding of the process of aging in this country and its impact on the family. The program will examine specific characteristics of the aging family, other trends that impact family life, changes in roles and the structure and dynamics of the caregiving relationship.
The program will also examine the costs and impact of care on the individual, on the family, and on our society. Implications for the practitioner will be explored through practical applications and exercises.
VII) LIVING IN AN UNCERTAIN WORLD: POST-TRAUMATIC STRESS DISORDER IN SENIOR ADULTS
This program will focus on the challenges faced by "The Greatest Generation," senior adults who grew up in the depression and faced the call to duty in World War II. The life experiences of our current senior population will be explored as well as their impact on senior adulthood. The symptoms of post-traumatic stress disorder will be defined. The interaction of complex factors that result in this disorder will be noted. The types, symptoms and stages of post-traumatic stress disorder will be identified as will treatment interventions
VIII) SEX IN THE GOLDEN YEARS: MYTHS AND REALITIES
This program will focus on the universal need for intimacy, love, and sexuality. The current attitudes and myths toward sexuality in senior adults will be explored as will sexual behavior in senior adults. The changing physiology of the male and female in senior adulthood and its impact on sexuality will be highlighted.
Psychosocial factors of senior adults as well as our changing social environment with its new sexual attitudes will be examined. Interventions to improve sexuality in senior adults will be presented.
IX) SPIRITUALITY: A TOOL FOR CLINICAL INTERVENTION WITH SENIOR ADULTS
Spirituality is a crucial dimension in our lives along with our physical, emotional and cognitive well-being. Participants will learn the meanings and dimensions of the spiritual experience, its similarity to and difference from the religious experience and reasons why spirituality is a crucial aspect of one's health, especially for senior adults.
Participants will learn about different models of aging and the role that spirituality can play in each. The connection between spiritual and psychological growth and functioning and the ways that our culture looks at each of these in terms of the senior adult will be addressed and participants explore how to develop a spiritual sensibility and sensitivity among senior adults, their families and in their work settings.
X) SUBSTANCE ABUSE AND SENIOR ADULTS
This program will provide a conceptual and theoretical understanding of substance abuse and senior adults. The program will cover the abuse of alcohol, prescription medication, over-the-counter medications, and tobacco and the epidemiology, statistics of abuse and related issues will be explored.
Participants will be able to identify the signs, symptoms of substance abuse, and those at high risk for abuse as well as age-related effects of use of alcohol, medication misuse, over-the-counter drug misuse, and tobacco abuse will be covered.
The barriers to diagnosis and treatment will be examined, assisting practitioners in recognizing the trap of confusing symptoms of substance use disorders with age-related changes and disorders such as dementia and delirium.
XI) UNDERSTANDING CULTURAL DIFFERENCES IN WORKING WITH SENIOR ADULTS
The role of the senior adult as well as definition of a family in different cultures will be explored as will the immigrant experience in America as it applies to our current population. The factors that influence ethnic assimilation and acculturation will be considered as will the challenges facing professionals working in multi-cultural settings such as adult day care centers, assisted living facilities, rehabilitation units and nursing homes.
NEW SEMINARS (available Fall, 2006)
Senior Adults and Their Disabled Adult Children – A review of the psycho-social, legal and community issues associated with aging parents and their dependent children.