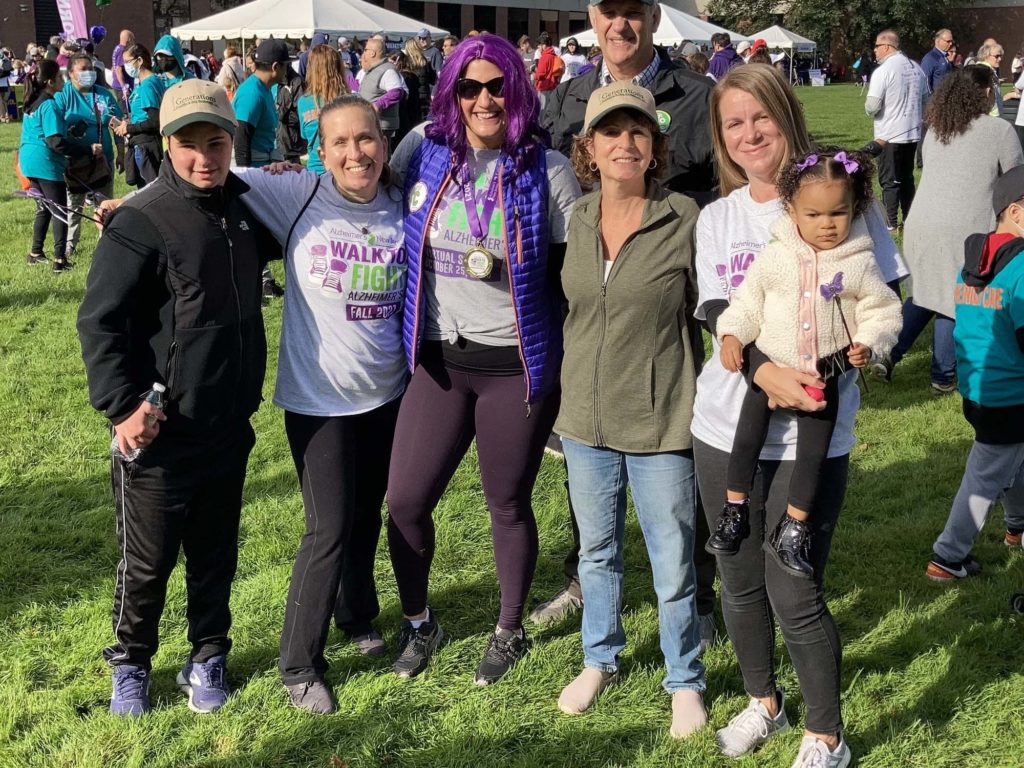 VICKI SHERMAN (DOUECK), MSW, LCSW, ASWCM – PRESIDENT / CEO
Vicki has been a leader in the field of geriatrics for over thirty years. As Coordinator of Geriatric and Outpatient Services at Douglas Gardens Community Mental Health Center, a division of the Miami Jewish Home and Hospital she developed and implemented demonstration programs for clients with dementia that serve as a standard of care to this day. Before founding GENERATIONS she was a director at the Jewish Family Service of Greater Hartford, Jewish Family Service of Bergen County and Mid-Bergen Community Mental Health Center. In 1987 Ms. Sherman founded the agency and has guided it to a position as the premier provider of services to the elderly, disabled and their families throughout New Jersey.
OUR CLINICAL STAFF
STACEY MAINES, MSW, LSW – DIRECTOR OF CARE MANAGEMENT SERVICES
For over 20 years, Stacey has used her passion for advocacy and facilitating communication within families along with her strong clinical training to focus on the needs of our seniors and their families. She has worked in all aspects of long term care including Skilled Nursing, Assisted Living, Continuing Care Communities, Hospice, and Home care. Stacey has served in management positions in social services and marketing as well as the Executive Director of an Assisted Living after receiving her CALA in 2012. Throughout her career, Stacey has written and presented several educational events for professional and community members. Stacey joined Generations in January of 2015 and has served as the Director of Care Management Services. She has her Masters in Social Work from NYU and is a LSW. One of Stacey's specialties is working with extended families and attorneys on Guardianship cases.
KATHERINE CURRAN, MSW, LSW- CARE MANAGER
Katherine received her Master of Social Work from Rutgers University in 2011. She received a certificate in Aging and Gerontological Services during her time at Rutgers School of Social Work. Ms. Curran has spent her career working with the older adult population. She began her career at Cedar Crest Village and worked there for 7 years. During her time there she spent two years as an Independent Living Social Worker, and 5 years as the Social Worker in their Nursing Facility on their Long Term Care and Memory Care floors. She joined the Generations team in November 2019.
AMY HUTTON, MSW, LCSW- CARE MANAGER
Amy received her Master of Social Work from Rutgers University in 2014. During her time at Rutgers University she focused her education on supporting adults as they age, and received a Certificate in Aging for this. Amy began her career at St. Joseph's Health where she worked as an advocate for vulnerable patient populations and their families throughout her 7 years there. Amy started as a care manager at St. Joseph's University Medical Center.  In this position she supported patients and families through assessing and implementing services to ensure a safe discharge plan. Later, in 2019, Amy received her clinical social work license while working as a clinician at St. Joseph's Harbor House Outpatient Mental Health Clinic. As a clinician, she provided therapy and case management to patients with mental illness and substance abuse disorders. She joined the Generations team in September 2021.  Amy's experience as a medical social worker and clinician lends to her ability to advocate for clients and their families as they navigate the aging process.
MELANIE TORTORA, RN CARE MANAGER
Melanie is a Registered Nurse who brings 30 years of Healthcare experience to The Generations Team, having held numerous positions within the industry spanning from patient advocacy and care management to leadership roles at prominent assisted living facilities. After starting as a Labor and Delivery Nurse at Barnert Hospital, Melanie ultimately found her passion in geriatric care and has spent the bulk of her career with brand name institutions including Sunrise Assisted Living, Grace Healthcare Services, and Kessler Institute for Rehabilitation. Melanie's patient-first, compassionate approach has helped countless individuals and their families through uncertain times, all while providing a comforting and personal touch throughout the process. She is a Mother of three boys, loves running, and works with challenged athletes as a volunteer for Achilles International in spare time.
DIANE STOLLER, RN, BC, MPH- CARE MANAGER
Diane received her Master of Public health from CUNY Graduate School of Public Health in 1981. She is a graduate of Beth Israel School of Nursing. She held positions as a senior staff nurse at NYU Medical Center in Donor Room and Transfusion Services and the Visiting Nurse Service of New York. She held the position of Director of Community Health Services at Holy Name Hospital, Home Care Manager at Englewood Hospital and Medical Center and Health Educator at Pascack Valley Community Outreach.
SHARON MCCOBIN, MSW, LCSW – PSYCHOTHERAPIST
Sharon has practiced as a clinical social worker for over twenty-five years. She has expertise in the treatment of depression, grief, life-stage issues and trauma and in working with family and community systems. Ms. McCobin works with GENERATIONS' clients in their homes as well as in assisted living and skilled nursing facilities. Her clinical skills enable her to work with a variety of clients and their families and help them meet the challenges of aging.
OUR ADMINISTRATIVE STAFF
JIM LOCOCO – EXECUTIVE VICE PRESIDENT / CFO
Jim brings over 30 years of executive-level experience in financial management, business development, technology management and systems design and development. Before joining GENERATIONS, he was the Chief Financial Officer of The Renfrew Centers, Inc., an internationally recognized mental health organization that provides service for women with eating disorders.
PATRICIA LINARD, BS BUSINESS ADMINISTRATION- MARKETING
Pat brings over 20 years of marketing experience to the position having worked in allied health publishing, home care, supportive senior housing, healthcare consulting and geriatric care management. Whether it be with providers of professional geriatric care management services, community organizations or seniors themselves Pat is adept at building relationships that offer benefit to the elderly, the disabled and the families that care for them.
LAURA MARIE HUISKING, CDP- DIRECTOR OF MARKETING
Laura has been in Marketing and Community Relations for the Senior Care Industry since 2013. She manages a variety of relationships with acute care facilities, assisted living communities, independent living communities, doctors, physical therapists, and elder law attorneys. Her passion for caregiver education has become an integral part of her life. She has developed numerous caregiver events, panels and ran "Caregivers United", a group designed to help families through the caregiving process. She is an avid and vocal volunteer for Alzheimer's New Jersey and in 2018 she became the Northern New Jersey Walk Chair. The GENERATIONS team is completed by a dedicated support staff that includes: reception, business office management and billing. GENERATIONS has also utilized the talents, enthusiasm and energies of graduate students in social work serving to ensure there will be a "next generation" of compassionate, highly skilled professionals to serve the geriatric community. GENERATIONS is affiliated with professional care managers throughout the country and can coordinates services in most areas of the nation.