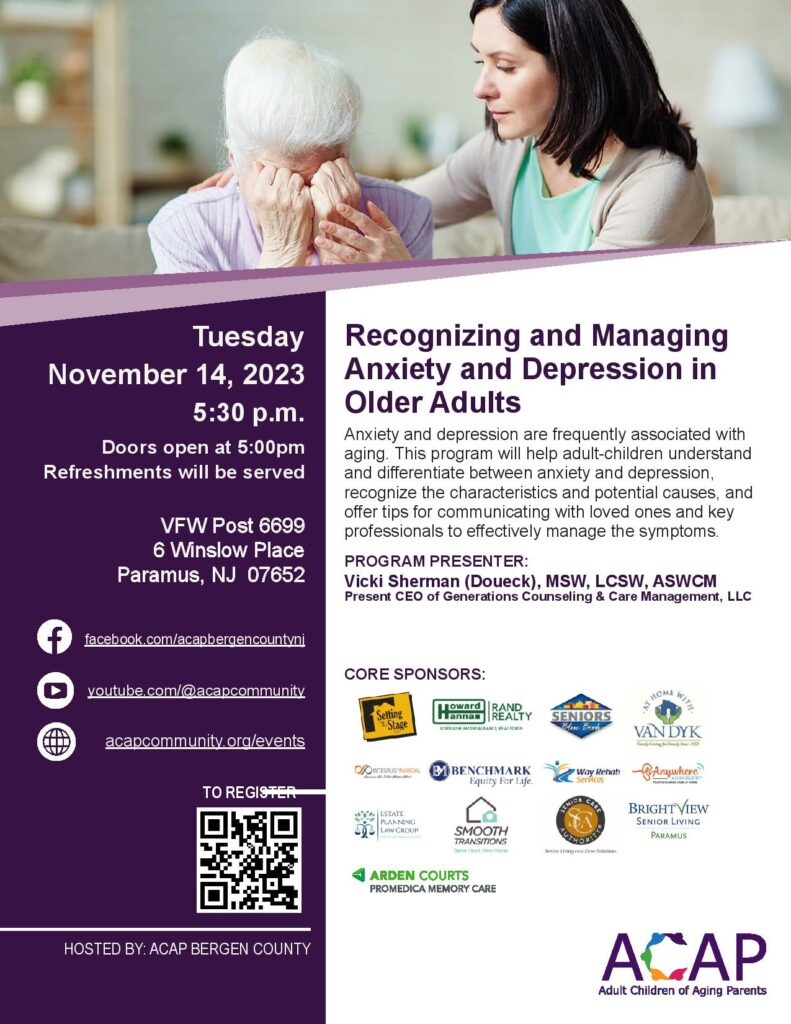 Join us on Tuesday, November 14th at 5:30pm for a very special presentation on "Recognizing and Managing Anxiety and Depression in Older Adults" at the ACAP (Adult Children of Aging Parents) Bergen County monthly meeting at the VFW Hall in Paramus, NJ. Our owner and CEO, Vicki Sherman Doueck, MSW, LCSW, ASWCM, will help people understand and differentiate between anxiety and depression, recognize the characteristics and potential causes, and offer tips for communicating with loved ones and key professionals to effectively manage the symptoms. Registration is required and refreshments will be served. Click HERE to register.
Generations is a part of the leadership team for ACAP of Bergen County, New Jersey. As leaders in the Senior Health Care field, we understand that education is an important part of the caregiving process. As an organization we strive to get involved with programs that support our clients and their families. ACAP Bergen County stands as an essential lifeline for adult-children navigating the intricacies of caring for their elderly loved ones. ACAP recognizes the unique challenges faced by adult children who are taking on the role of caregivers for their aging parents. With the county's diverse and vibrant community, ACAP's Bergen County chapter provides a supportive network that offers educational seminars, resources, support, and community connections tailored to the specific needs of caregivers in the area. Whether it's understanding the local healthcare resources available, addressing legal considerations within New Jersey's regulations, or ensuring effective financial planning for both the caregiver and the aging parent, ACAP Bergen County, rooted in the expertise of senior services professionals, serves as a valuable resource. By fostering a sense of community and shared experiences among local caregivers, ACAP contributes to the well-being of both the caregivers and their aging parents, enriching the fabric of Bergen County's compassionate caregiving landscape.
Family owned and operated for over 35 years, Generations Counseling & Care Management, LLC is a full-service geriatric care management firm that provides care management, advocacy, and psychotherapy services with an integrated, professional, client-centered approach to the needs of the elderly, persons with disabilities, their families, and the caregiving community. Our expert staff are available 24/7 and offer a wide range of services that cover all aspects of elder care including: care management, counseling, psychotherapy, elder care planning, transitional service to senior communities & nursing facilities, services for disabled individuals, benefits counseling, assessments, financial services and management, moving and relocation coordination and much more. If you need more information on our services, please call our office at 201-845-7030.